The first couture masks that captured my attention was the beautiful Opera-detachable bow facecover from Victor dE Souza. The drama of big fuchsia hued silk bow makes a perfect fashion statement while taking care of necessary errands like grocery shopping. Although these masks are not medical grade, it is acceptable for everyday life as many stores require face covering for entry. 
Opera-detachable Bow Facewear 
$250
Royal-Couture Pearls Facewear 
$241
Suspiria-Couture Hand Embroidery Headwear 
$160
If you are looking for more simple but still fashionable mask options, look no further than Maison Modulare. Their masks are created with french lace in geometric pattern lining with 2 layers of 100% organic cotton lining. All of their masks are made right here in the USA.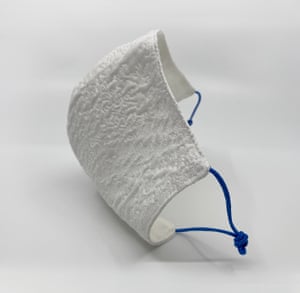 Geometric Lace Mask 
$60 
3 Ply Leavers Lace Mask 
$60
If you are looking for more affordable price range, consider Alice and Olivia! Their bright colors with happy patterns with low price of $12.95. The catch? Their mask prints are limited editions, so it is encouraged to sign up for notifications to snag up beautiful new patterns! 
Alice + Olivia Mask 
$12.95